MFL
At All Cannings we have always had a strong commitment to learning other languages. With two fluent French speakers on our staff we are in an ideal position to offer your children the opportunity to learn another language from the earliest opportunity. The national curriculum requires us to teach another language from the beginning of KS2. However, at All Cannings we believe that the earlier a child starts to explore other languages the better. This builds their confidence and encourages them to develop a love of language generally which permeates their own native language learning too. It is for this reason that we have chosen to offer French from Reception to Year 6.
Children learn French in a variety of ways at All Cannings. There is a great emphasis on the spoken word throughout all year groups and this includes learning full stories, many songs and integrating their language learning into cross-curricular activities.
As children progress up the school they will start to write in French too and with our strong French partnership well established, this is the ideal opportunity for children to move into written communication between the two schools. In Upper KS2 we extend children's language learning by exploring other languages too. Children learn to become language "detectives" using prior knowledge to support their
investigations into a variety of new languages. This culminates in our annual MFL Cluster Day where All Cannings children join forces with children from other local schools to explore a wide variety of other languages. From Polish to Swedish, Latin to Portuguese this allows the children to discover how languages relate to each other in words, grammar and sentence order.
One of the best ways our children learn about other cultures is to welcome and visit our partner school in France. Every other year children from the Henri Pellet School in Langeais visit us here in All Cannings for a week. We organise host families and the children stay in pairs for the duration of their visit. This offers the children a unique opportunity to bond with each other and relationships between the families often continue long after the French have gone home. While our French visitors are here they work with the English children on a variety of school-based activities, join in with traditional English sports like rounders and netball, share joint projects face-to-face and generally get to know one another. The French children also have the opportunity to visit Devizes market, the Roman Baths and Stonehenge whilst in Wiltshire.
A few weeks later we visit France and because the children all know each other the welcome is overwhelming. We stay in a purpose-built hostel but night after night are visited by French families who eat with us and provide entertainment. We visit the school and get the opportunity to explore the similarities and differences in the two education systems. We also visit many exciting places including two chateaux and a French market. On our last visit we were privileged to go behind the scenes of a local potter and to visit the kitchens of a local baker. These are opportunities that can only come about because of our well-established partnership ... they are not things the average tourist would have access to! The inspiration to learn French after such a trip is immeasurable.
Modern Foreign Languages Day - Tuesday 3rd July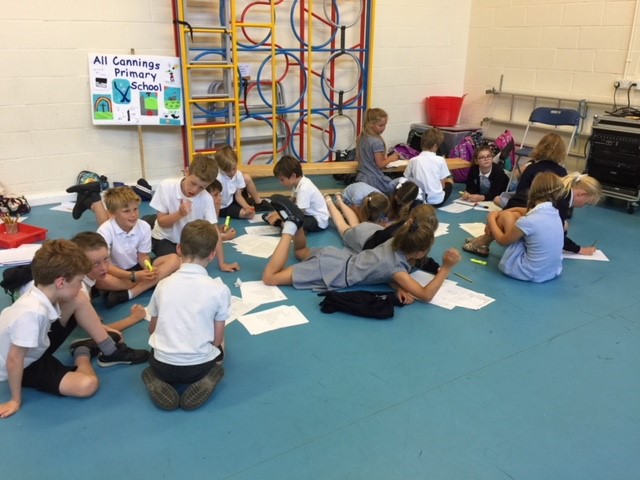 On 3rd July eighteen children took part in the annual Modern Foreign Languages Day at Nursteed School in Devizes which involved seven schools from the Devizes cluster. The aim of the day is to give children an opportunity to investigate and extend their language learning in an interactive and engaging way. Each school presented the story "Jacques Le Gourmand" (Greedy Jack) in an alternative language. All Cannings chose Danish and Freddy and Magnus led the group brilliantly. The children then worked out which language each school was speaking and identified different words classes within each language. Following this, the children read a version of the story in Latin and were able to match Latin words to English words. Lunchtime was spent chatting with children from the other schools and comparing their lunch box items. Each child had been encouraged to bring foods from different countries to eat. In the afternoon, each school innovated the "Greedy Jack" story and the children presented the "revised" version to everyone.
Further Information